Enslaved is the latest book in the Eternal Guardians series. What inspired you to write about the Argonauts?
EN: I've always loved Greek mythology, but the idea for the Eternal Guardians series came about while I was doing research for my debut book, Stolen Fury, a treasure hunt romantic suspense. In Stolen Fury, the two main characters are searching for relics of the three Furies from Greek mythology. I was so immersed in the research for that book, I knew I wanted to write a series that had something to do with the ancient stories. At the same time I also had an idea for a paranormal about a warrior in search of a human woman who will fulfill a prophecy that will save his world. And one day I realized…the two ideas were meant to go together. The Eternal Guardians series blossomed from there.

The hero and heroine go on a treacherous journey, but find the time to fall in love along the way. What draws them together?
EN: Gryphon is originally drawn to Maelea because being in her presence calms him. He doesn't hear the menacing voice in his head when she's close. He doesn't know why she affects him this way, but he quickly realizes when she's close, he can think straight, and he needs that if he's going to ever find the goddess who cursed him.
For Maelea, being with Gryphon is a risk. She senses darkness in him and knows he was tortured in the Underworld. Because of her own link to the Underworld, she finds herself attracted to the darkness inside him—darkness she's been trying to deny her whole life. She's intent on getting away from Gryphon, but he's determined to keep her with him.
Soon, of course, each realizes the other is not what they initially thought, and the romance develops from there.
What's one of your favorite scenes in this book, and why?
EN: This question is so hard to answer without giving too much away!
My favorite scene in the book comes about halfway through. Gryphon thinks he's done something completely awful to Maelea. His memories are sketchy, but when he wakes in the morning he's riddled with guilt. There's a scene between the two of them where he's trying to apologize—although knows he can never make up for what he did—and Maelea's looking at him like he's nuts. What follows is a major turning point in their relationship that makes me smile every time.
Tell us something readers don't know about your hero, Gryphon.
EN: Gryphon was always the easy-going Argonaut. Fun loving, easy to get along with, everyone's friend. He was also quite a playboy before being sent to the Underworld, and he had a reputation as a real ladies man. What readers don't know about Gryphon until they read Enslaved is that secretly, he's always just wanted to find someone who cares about him because of who he is inside, not because of his title or status or his work as an Argonaut.
What do you think Malea's best trait is? Her worst?
EN: Maelea is a survivor. And she doesn't give up when she puts her mind to something. She also has a soft heart, which is what ultimately makes her the perfect match for Gryphon.
Her worst trait is that she doesn't easily trust. She's lived so long she knows that everyone has their own agenda. She's skeptical and withdrawn and she'd rather live her life alone than open herself up to someone who could hurt her.
What is your average "writing" day like? Fill us in on all the "glamourous" details!
EN: Ah, the glamour!
A typical day for me usually starts with a workout to clear my head (I run and go to a weight lifting class to keep my shoulders loose – all that computer work makes me sore). After that, I come home, spend the morning checking email and doing promo work, and typically write in the afternoon. Depending on what's happening at my house, I either work in my office, my bedroom, or I head to the coffee shop. After that, I head home, herd my kids and think about my book in the evening before I start all over the next day.
What is your most memorable Thanksgiving memory?
EN: We usually go to my mom's house for T'giving dinner. A few years ago she decided to forego the turkey and serve lobsters instead. (I don't like turkey so I was thrilled with this idea!) However, she made the mistake of buying live lobsters, and my husband and younger brother were goofing around in the kitchen with them before the cooking. Yep, you guessed it. They wound up in a lobster fight. Now, this is something I'd expect young boys to do, not grown men, but what do I know? At one point I remember yelling, "Do not take those rubber bands off the claws!" but no one listened to me. My younger brother ended up with a nasty lobster bite on the back of his arm, my mom was frantically trying to clean up his blood, which was dripping all over the kitchen floor, and I then had to explain to my children why dueling with lobsters was not something they should ever do.
Pick one (or all): favorite movie, book or author and tell us why!
EN: Favorite Movie(s) – I have two! The Lord of the Rings and Gladiator (my hubby is so sick of these movies but I watch them regularly.) I love the fantasy and friendship elements in The Lord of the Rings and Gladiator is an underdog story that always leaves me feeling as if anything is possible.
Favorite book – Perfect by Judith McNaught. A deep, emotional love story I reread at least once per year because I love the characters so much.
Favorite author – oh, that's so hard! I honestly don't have one. I like so many different authors in a variety of genres. The great part about books is you have many unique voices to choose from.
If I wasn't an author my dream job would be.....
EN: I would probably own a used bookstore with comfy couches and a coffee bar where people could hang out, read and chat about books.
Please tell us what you have coming out next!
EN:
Right now I'm working on Eternal Guardians book 6, which is Titus's book (tentatively titled Scorched). It will release in early 2013. I'm also working on the sequel to Wait for Me (which is still untitled), and I'm in the process of putting together an all-new romantic suspense series loosely connected to a novella I wrote in the Bodyguards in Bed anthology, titled "Acapulco Heat." 2013 will be a busy writing year for me, but I'm excited about giving my readers new stories and new characters they can get lost in.
ENSLAVED BY ELISABETH NAUGHTON – IN STORES NOVEMBER 2012
"Do not miss this series."—New York Times bestselling author Larissa Ione
GRYPHON—Honorable, loyal, dependable…tainted. He was the ultimate warrior before imprisonment in the Underworld changed him in ways he can't ignore.
She calls to him. Come to me. You can't resist. But Gryphon will not allow himself to be ruled by the insidious whispers in his head. And there's only one way to stop them: kill Atalanta, the goddess who enslaved him. But with so much darkness inside, he can't be sure what's real anymore. Even the Eternal Guardians, those who protect the human realms and the gods, want to exile him.
Finding Malea is like a miracle. Somehow he doesn't feel the pull of the dark when she's near. And he's determined to keep her as near as possible, whether she wants him close or not. But she's a temptation that will test every bit of control he has left. One that may ultimately have the power to send him back to the Underworld...or free him from his chains for good.
Praise for Elisabeth Naughton:
"Entertaining and smoldering." —Publishers Weekly, starred review of Tempted
"Creative worldbuilding and ever-present danger pull the reader into this mesmerizing tale." —RT Book Reviews, 4 ½ star review of Enraptured
A former junior high science teacher, Elisabeth Naughton traded in her red pen and test-tube set for a laptop and research books. She now writes sexy romantic adventure and paranormal novels full-time from Oregon, where she lives with her husband and three children. Her work has been nominated for numerous awards, including the RWA RITA© Award, the NJ RWA Golden Leaf, and the RWA Golden Heart. When not writing, Elisabeth can be found running, hanging out at the ball park, or dreaming up new and adventures. Visit her at
www.elisabethnaughton.com
and follow her on Twitter,
@ElisNaughton
.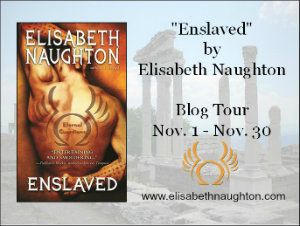 Contest: One lucky person will win a copy of Enslaved.

Leave a comment with your email address for your chance to win.

Contest open to U.S. and Canada, ends December 2nd.